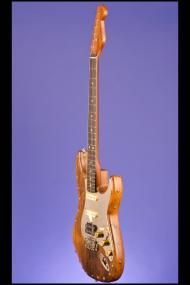 The Italians Make Legendary Cars - Now They Make Legendary Guitars As Well
2014 Paoletti Wine Series Millesimata Stratospheric (HB)[Stratocaster Style].
We are very proud to present this custom ordered Paoletti 'Stratospheric Wine Nail Series Millesimata'. This wonderful guitar weighs 9.20 lbs and features a body made from 150-year-old chestnut wine barrels. The body has an oil finish with a thin layer of nitrocellulose, which is enhanced by the placing of 22 brass nails/rivets on the top and 22 brass nails/rivets on the edges. One-piece Honduras mahogany neck with a nut width of just under 1 11/16 inches, a scale length of 25 1/2...