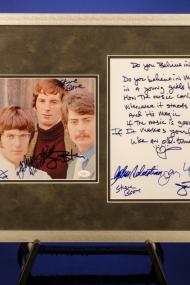 "And It's Magic If The Music Is Groovy" The Lovin' Spoonful
LOVIN' SPOONFUL. Do You Believe In Magic? Souvenir handwritten lyrics to the hit song, signed by each member of the band. [with] Color photograph signed by each member at time of lyric sheet.
---
Off-white card stock, 8 1/2 x 11 inches, undated (but June 1967 - early 1969), with the first verse to the song written in holograph by drummer Joe Butler in blue felt tip pen. Signatures below of John Sebastian (harmonica, autoharp, etc.), Jerry Yester (guitar), Steve Boone (bass), and Joe Butler (drums). With lovin' heart-in-spoon doodle by Butler below the lyrics:
...