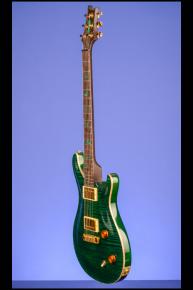 Listen to this Guitar
Hear Arnie Newman demo this guitar
"I Was So Impressed With This Guitar That I Kept It For My Personal Use Before Returning It To The Private Stock team" Paul Reed Smith.
2002 Paul Reed Smith Custom 22 Private Stock 'Flamed Emerald Green'.
This PRS Private Stock 'Custom 22' weighs just 7.20 lbs., and has a one-piece, PRS-shape offset asymmetrical double-cutaway 13 inch wide, just under 2 inches deep, mahogany body with an amazing sculptured, two-piece book-matched highly-figured, West Coast curly maple top. There is a 3/16 inch 'band' of plain maple which starts at the tip of the treble-horn and goes all the way round to the neck on the bass side. One-piece 'fretted' Brazilian Rosewood PRS-shape glued-in neck with a nut width of 1 11/16 inches, a wonderful medium-thick profile and a scale length of 25.00 inches. Single-action truss rod. Back angled three-on-a-side non veneered headstock with inlaid Malachite 'Eagle' and Paua purfling. Rosewood truss-rod cover, also with Paua purfling, secured with one screw. Individual Schaller/PRS 'Rotamatic' locking tuners with half-moon metal buttons. On the back of the headstock is the serial number "2 63891" stamped in blind "Private Stock #396 / 2 22 02 / Paul Reed Signature" written in gold marker. Ten inch radiused Brazilian rosewood fretboard with inlaid Malachite 'bird' position markers, 22 jumbo frets and Paua purfling. One PRS "10" vintage-style bass humbucker in the neck position and one PRS "10" vintage-style treble humbucker in the bridge position with outputs of 8.04k and 12.82k respectively. Cream plastic pickup surrounds. One volume control, one tone control, and one three-way pickup selector switch. Gold plastic barrel-shape "Speed" control knobs. PRS Wrap-over, pre-compensated 'brushed' stud bridge/tailpiece. Inside the neck pickup cavity are the letters "PS" in gold marker and also the date "Jan 07 2002 stamped in black. inside the bridge pickup cavity, written in black ink is "PS #396 / CUZZ Stop-Tail / Emerald Green" and also "Jason" and PW ll". On the back of the guitar the triangular black plastic control cover is secured by three screws. All hardware gold-plated. This amazing guitar is in near mint (9.25) condition with just a miniscule amount of belt-buckle scarring on the back. Complete with the original Paul Reed Smith letter of authenticity, signed and dated May 8, 2002, the original sales receipt dated May 17, 2002, inspection card, warranty, truss-rod adjustment tool, and allan key. Housed in the original three-latch, rectangular black hardshell case with black leather ends and black plush lining (9.25). Also included in the case is a duplicate tailpiece and two studs.

"This emerald green Custom 22 model Private Stock guitar was designed and handmade by Joseph Knaggs, Dave Hazel, Chris Bavaria and me. The woods, including a curly maple top, were carefully picked from my private stock for sound and remarkable figure. This guitar's Brazilian rosewood neck gives it a powerful sound and unique feel which has become the benchmark from which I judge all other instruments. Other features, such as malachite bird inlays, add to this guitar's special appeal. I was so impressed with this guitar that I kept it for my personal use before returning it to the Private Stock team. Specifications are as follows:
Serial Number: 2-63891 Private Stock #396
Neck: Brazilian rosewood
Fingerboard: Brazilian rosewood
Top: West coast curly maple
Back: Mahogany
Headstock Veneer: Brazilian rosewood
Color/Stain: Emerald Green
Inlay: Malachite bird inlays with paua purfling
Pickups: Dragon ll's
Electronics: Custom 22
Hardware: Gold non-adjustable PRS stoptail, gold non-locking tuners with ebony buttons
Specials: Brazilian rosewood neck, and malachite Private stock eagle and bird inlays
Final assembly by Russell Hoffman, January 28, 2002
Paul Reed Smith blue ink signature

*PRS has named many of its new pickups with numbers - like the Single-cut 7s and the Single-cut Trem 6s. There are also 8s, 9s and 10s but at the time of writing these are not available on standard PRS models, although they are used for artist guitars and as the basis of new designs… the 9 Treble and Bass are PAF-style vintage spec humbuckers - probably the basis for the SC 245 pickups - and the 10 Treble and Bass are again quite vintage-like but more powerful." (Dave Burrluck. The PRS Guitar Book. p, 169).