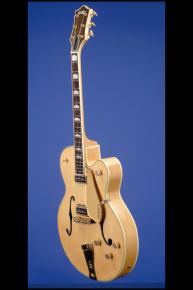 Listen to this Guitar
Hear Arnie Newman demo this guitar
"The Best Figured Maple Plywood is Reserved for the Body of the 6193 in Natural Finish"

1956 Gretsch 6193 Country Club.

This 'Natural' Country Club weighs just 7.20 lbs. with a huge nut width of just under 1 3/4 inches and a scale length of 25 1/2 inches. Two and three-quarter inch deep rock maple body, with quadruple binding on the top and back and two large double-bound f-holes. Three-piece maple/ebony/maple neck with a nice medium-to-thick profile and a white-and-black-bound ebony fretboard with 21 frets and inlaid pearl hump-top block position markers. Triple bound headstock with inlaid pearl Gretsch "T-roof" logo. Individual Grover Imperial tuners with stairstep metal buttons. Two-layer black on white plastic truss-rod cover with three screws. Two DeArmond (Dynasonic) pickups, with very strong outputs of 9.34k and 9.42k. Original gold Lucite pickguard with Gretsch "T-roof" logo in black engraved from the underside. Three controls on the lower treble bout (one volume for each pickup and master tone) and one control on the cutaway bout (master volume) plus one three-way pickup selector switch on upper bass bout. Plain "Arrow" knobs with cross-hatch pattern on sides. Melita Synchro-Sonic bridge and "G" cutout tailpiece. All hardware gold-plated (minimal tarnishing). This guitar is totally unfaded and in near mint (9.25) condition. Original Gretsch rectangular white label with the model number "6193" stamped in black, and the serial number "19037" stamped in red, inside bass "f" hole. A wonderful example in near mint (9.25) condition. Housed in the original Gretsch two-tone gray hardshell case with maroon plush lining (9.25). Included is a valuation letter from Gruhn Guitars dated April 25, 2001, detailing the guitar and valuing it (in 2001) at $4,250.

"The Country Club was in many ways Gretsch's most traditional guitar...[and] also among the company's best. Among Gretsch's first commercially successful electrics, the Country Clubs were directly descended from the 6030 and 6031 of the Synchromatic line, which were in turn directly descended from the pre-war 'cat-eye' Synchromatic 300. In other words, the 6192 and 6193 Country Clubs were 17-inch pedigreed jazz boxes when they were introduced in 1951. They were the largest Gretsch electric models, other than the White Falcon, and the only guitars in the line other than the Falcon to use a spruce top, although spruce is rarely found after '55" (see The Gretsch Pages at http://www.gretschpages.com/models/6192club/index.php).

"The Cadillac Green Model 6196 Country Club that graced the cover of the 1955 catalog along with other Gretsch dazzlers was jazz guitar perfection itself, a heady combination of functionality and sparkling color. Introduced in 1954 the metallic-green beauty presented all the features characteristic of the 1955 Club. The now all-maple (leaving the White Falcon the only Gretsch electric with a spruce top, although an occasional and arbitrary C.C. does occur with a spruce top, especially in 1958 and '59), 17-inch-wide, 3 1/2-inch-deep, 25 1/2-inch scale length, true f-hole body is multiple-bound, top and back, in four plies of black and white plastic. The choicest, most highly figured maple plywood is reserved for the body of the 6193 in natural finish. The 6192, 6193, and 6196's gold parts include two DeArmond pickups, arrow control knobs and "G" cutout tailpiece both introduced in 1954 (Country Clubs were never stock with Bigsby vibrato tailpieces), Melita bridge, pickup-selector switch cap and Grover Imperial tuners. In 1955, the Club's tortoise shell plastic pickguard is replaced with a gold Lucite 'guard pantograph-engraved from the underside with a radiused 'Gretsch' block letter logo. The three-piece maple-ebony-maple Miracle Neck joins the body at the 14th fret and utilizes a Brazilian rosewood fingerboard, five-ply bound in black and white, with real mother-of-pearl humped-block inlays; from the model's inception until this time, the fingerboard was inlaid with pearloid plastic squares. The new-design headstock, debuted in 1954, has a 'Gretsch' mother-of-pearl block letter logo inlaid into a dark-stained maple or holly overlay and bound in three-ply black and white plastic. A small, bullet-shaped truss rod cover, introduced in 1954, completes the headstock motif; in 1956, all Gretsch guitars appeared with a new, enlarged truss rod cover" (Jay Scott, The Guitars of the Fred Gretsch Company, p. 45).