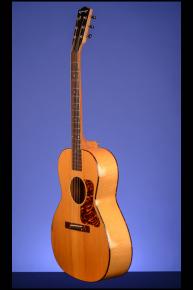 Listen to this Guitar
Hear Arnie Newman demo this guitar
A Stunning Finger Style / Slide Blues Picker Based on the Gibson L-00 Body.
1940 Gibson Kalamazoo KGN-12 Flat Top - 14 fret neck.
This 14 3/4-inch wide, 4 3/8 inch deep, natural "Dreadnaught family" lightly arched-top, "flat-back" guitar weighs just 3.50 lbs. Three-piece, slightly arched Adirondack spruce top with 'ladder' bracing and 4 1/4 inch diameter sound hole edged in white. One-piece 'flamed' maple veneered back and flamed solid maple sides. The top and back are single-bound with 'faux' tortoiseshell. One-piece mahogany neck with a nut width of just over 1 11/16 inches, a wonderful fat profile and a scale length of 25 inches. Brazilian rosewood fretboard with 19 original thin frets (neck joins the body at the 14th fret) and pearl dot position markers and white dot side markers. Headstock with white screened "Kalamazoo" logo. Three-in-a-line Kluson open-back 'strip' tuners with oval black plastic buttons. Original specific shaped 'fire-striped' celluloid pickguard glued to top. 'Compensated' bone bridge on mahogany base with two circular pearl inlays and six black string pins. Serial number "5132G" stamped in black on end of neck inside body and beneath that "37" written in red pencil. This is an all original example with a very little wear to the original frets and a just few surface marks/abrasions on the body due to over seventy years of playing. The action at the 12th fret is a little high at 3/16 inch but the guitar is still very comfortable to play. Overall this wonderful little KGN-12 'mean blues machine' is in near mint (9.25) condition. Housed in a later four-latch, shaped black hardshell case with orange plush lining (9.00).

Just 1,708 KGN-12s were produced between 1939 and 1940.

"In the late 1930s, the Gibson guitar company decided to offer their own entry level guitars. While similar to models built for other distributors (Cromwell, Fascinator, or Capital) in construction, the Kalamazoo line was originally only offered for about five years. Models included flattop and archtop acoustics, lap steels (and amps), and mandolins. Pre-war Kalamazoo instruments, like other Gibson budget instruments, do not have an adjustable truss rod (a key difference), have different construction techniques, and have no identifying Gibson logo." (Zachary Fjested. The Blue Book of Acoustic Guitars. Eleventh edition p.363).

"The Kalamazoo brand of instruments would turn out to be the most successful of Gibson's in-house budget brand, manufacturing guitars, banjos, mandolins, mandolas, mando-cellos, mando-basses and the entire violin family of instruments from 1933 - 1942." (Paul Fox. The Other Brands of Gibson, p. 19).