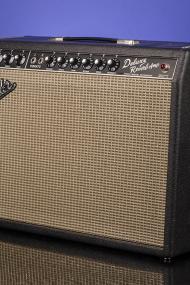 An All Original 1966 Fender Blackface Deluxe Reverb
"Highly Prized For It's Portability And Ability To Be 'Cranked' In Small Clubs"
1966 Fender Deluxe Reverb AB 763
A near mint, August 1966 "silver-sparkle black-face" black tolex "Deluxe Reverb AB 763". This wonderful combo will give you that perfect mid-sixties "clean" tone that everyone wants… It weighs just 36 lbs, boasts 20 watts and has one Oxford twelve-inch speaker with code "465 613" (Oxford, March, 1966). Black Tolex body, with silver sparkle grill cloth. The cabinet measures 17 1/2 x 22 x 9 1/2 inches (7 1/2 inches at the top). The serial number "A 15130" is stamped in blind...