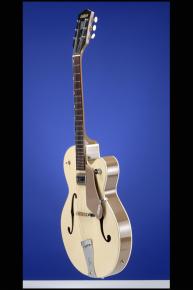 Listen to this Guitar
Hear Arnie Newman demo this guitar
Very Rare and Near Fine, Totally Original "Jaguar Tan" Single Anniversary.
1964 Gretsch 6125 Anniversary Model.

This very rare and totally original "Jaguar Tan" Single Anniversary weighs just 5.90 lbs. and has a nut width of just under 1 11/16 inches and a scale length of 24 1/2 inches. Laminated maple body, medium to thick profile maple neck, and rosewood fretboard with 21 frets and neoclassic inlaid pearl half-moon (thumbprint) position markers. Headstock with inlaid pearl Gretsch "T-roof" logo and "Anniversary Model" plaque. Individual open-back tuners with white oval plastic buttons. One Gretsch Hi-Lo'Tron pickup with tan plastic surround and an output of 3.61k. Tan Lucite pickguard with Gretsch "T-roof" logo in relief in white. One volume control on upper treble bout and one three-way tone selector switch on upper bass bout. Chrome-plated "Arrow-through-G" with knurled sides. Six-saddle Space Control bridge on ebony base and "G-hole flat" tailpiece. This guitar is in near mint (9.25) condition. Housed in the original Gretsch two-tone gray hardshell case with maroon plush lining (9.00). With original green Gretsch Quality Control Dept OK card.

"In 1958 Gretsch marked the 75th anniversary of the company's founding with a pair of special Anniversary model guitars. These were offered in one- and two-pickup versions that have since been nicknamed as the Single Anniversary and Double Anniversary models. Remarkably, they lasted in the Gretsch catalog until as late as 1977" (Tony Bacon, Electric Guitars: The Illustrated Encyclopedia, p. 172).

"The revolutionary year 1958 saw dynamic electronic and cosmetic innovation in Gretsch electrics. At the same time, the company issued new models to capture more of both the high-end and less-expensive, utility or student market. To this latter end, four affordable models were issued to commemorate the 75th Anniversary of the founding of the company in 1883...it saw fit to celebrate its Diamond Jubilee by debuting four low-rent -- although they were long-lived since they survived from '58 to the late-1970s -- Anniversary models: the sunburst-finished, one pickup Model 6124; two pickup, sunburst-finished Model 6117; the one pickup Model 6125 in two-tone Smoke Green finish and two pickup Model 6118 in the same two-tone motif. In 1958, the single Patent Applied For Filter'Tron-equipped 6124 and 6125 cost $198 while the twin-pickup models were $285...The 16-inch-wide, 2 1/2-inch-deep, true (unbound) f-hole, all-maple-bodied archtops utilize a 24 1/2-inch scale and have an interior wooden center strut that runs from the top to the back as on the Model 6120. This support ensures rigidity of the top and also forms a platform on which the PAF(s) sit...All Anniversary models changed little -- a Tone-Twister here, a two-tone Tan variation there -- in the decade since their introduction in 1958 including the price" (Jay Scott, The Guitars of the Fred Gretsch Company, pp. 205-211).