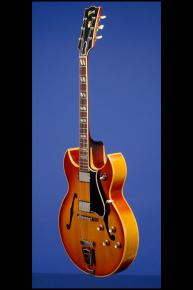 Listen to this Guitar
Hear Arnie Newman demo this guitar
An Original PAF Spruce Top Barney Kessel…
1962 Gibson Barney Kessel.
This original cherry sunburst "Barney Kessel" guitar weighs just 6.70 lbs. Unique 17 inch wide and 2 3/4 inch deep body with a double Florentine cutaway. Two-piece laminated spruce top with two unbound 'f' holes and parallel braces. Birds-eye laminated maple back and sides. One-piece mahogany neck with a nut width of 1 11/16 inches, a scale length of 25 1/2 inches. and a nice fast medium-to-thin profile. Single-bound Brazilian rosewood fretboard with 20 original jumbo frets and inlaid pearl split-parallelogram position markers. Triple binding on top and bottom edges, single-bound headstock. Super-400 style long headstock with Inlaid pearl "Gibson" and pearl crown inlay. Two-layer black on white bell-shaped truss-rod cover with two screws. Black-painted headstock rear face with serial number "53456" stamped in blind. Individual 'single-line' Kluson Deluxe tuners with bell-shaped 'double-ring' keystone buttons (each stamped on the underside "D-169400 / Patent No."). Orange oval label inside the bass f-hole with the style "Barney Kessel" printed in black and the serial number "43456" written in black ink. Two original double-black "PAF" humbuckers with outputs of 7.36k and 7.98k, each with a rectangular black label on the underside reading "Patent / Applied For". Two black plastic pickup rings, the neck one being stamped on the underside "MR 491 / M-69 7" and the bridge one "MR 490 / M-69 8". Five-layer (black / white / black / white / black) plastic pickguard. Four controls (two volume, two tone) on lower treble bout plus three-way pickup selector switch with black rubber mounting ring on treble horn. Gold plastic bell-shaped knobs with metal tops. Gibson Tune-O-Matic non-retainer bridge with metal saddles and rosewood base. Trapeze tailpiece with raised diamond and rosewood shield featuring a black plastic nameplate with "Barney Kessel" engraved in white. This is one of the most unusual of all the Gibson 'Artist' models with just approximately 533 guitars being produced between 1961 and 1965. This guitar is one of just 153 guitars shipped in 1962 and is in exceptionally fine (9.00) condition with just a hint of fade to the top, some light finish checking (which is most prominent on the spruce top) and a tiny bit of playing wear on the top just by the bridge pickup. This is the earliest and the only PAF spruce top Barney Kessel that we have ever seen. Housed in the original Gibson four-latch brown shaped hardshell case with pink plush lining (9.00).

Barney Kessel (October 17, 1923 – May 6, 2004) was an American jazz guitarist born in Muskogee, Oklahoma, USA. He was a member of many prominent jazz groups as well as a "first call" guitarist for studio, film, and television recording sessions. Kessel was a member of the group of session musicians known as The Wrecking Crew. Kessel began his career as a teenager touring with local dance bands before moving on to bands such as that led by Chico Marx. He quickly established himself as a key post-Charlie Christian jazz guitarist. In 1944 he participated in the film Jammin' the Blues, which featured Lester Young, and in 1947 he recorded with Charlie Parker's New Stars on the Relaxin' at Camarillo session for Dial Records. He is featured on the compilation Charlie Parker on Dial.[1] He was rated the #1 guitarist in Esquire, Down Beat, and Playboy magazine polls between 1947 and 1960. Barney Kessel is known for his innovative work in the guitar trio setting. In the 1950s, he made a series of albums called The Poll Winners with Ray Brown on bass and Shelly Manne on drums. He was also the prominent guitarist on Julie London's definitive recording of "Cry Me a River". Also from the 50s, his three Kessell Plays Standards volumes contain some of his most polished work. Kessel was also a member of the Oscar Peterson Trio with Ray Brown for a year, leaving in 1953. The guitar chair was called the hardest gig in show business since Peterson often liked to play at breakneck tempos. Herb Ellis took over from Kessel. Kessel also played with Sonny Rollins in the late 50s and can be heard on the Sonny Rollins And The Contemporary Leaders album on songs like "How High the Moon". A "first call" guitarist at Columbia Pictures, during the 1960s Kessel became one of the most in-demand session guitarists in America, and is considered a key member of the group of first-call session musicians now usually known as The Wrecking Crew. In this capacity he played on hundreds of famous pop recordings including albums and singles by Phil Spector, The Beach Boys, The Monkees and many others. He appeared in an acting part playing a jazz guitarist named "Barney" in one episode of the Perry Mason TV show. He also wrote and arranged the source music, including a jazz version of "Here Comes the Bride", provided by the jazz combo that figured in the story.

In 1961 The Gibson Guitar Corporation introduced The Barney Kessel model guitar onto the market and continued to make them until 1973.